Pavers
The Grinnell Difference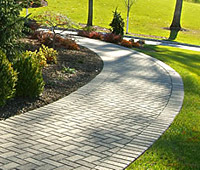 As one of the original paving stone brands, our commitment to excellence shows in every step you take.
We manufacture tens of millions of pavers every year, and are one of the few manufacturers that still mines its own aggregates which allows our complete product line to maintain its remarkable quality and consistency year after year. We are a company built on hard work, the best products possible and pride. Our pride comes from making the home you keep beautiful even more beautiful. Beauty that comes not just from how something looks, but also from how it feels, invites, engages and encourages people to linger just a little bit longer. Even if they're only passing by. Your home is the foundation for your life, for the moments and milestones that become memories and family lore. And, as with most things, the stronger the foundation, the greater the legacy. So we invite you to do more than just choose a paving stone company, we invite you to live on us.
Trusted at our nation's most precious places.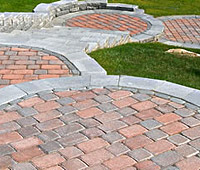 You'll find Grinnell paving stones everywhere from the 86th floor observation deck of the Empire State Building to your neighbor's driveway, and each comes with our singular commitment to quality. A commitment that is a hallmark of our heritage, and what drives our future.
Lifetime Warranty
At Grinnell, We believe that you can judge a company's commitment to quality based on their willingness to stand behind their products
That is why Grinnell offers a lifetime warranty covering the structural integrity and deterioration, due to natural causes, of our paving stones and wall systems. If, after following Grinnell's installation guidelines, any paving stones or wall units are found to be defective, we will gladly replace those units.
Due, however, to the very nature of concrete products we cannot guarantee that the color of the replacement units will match and our warranty does not include shipping, landscaping and/or labor costs. Grinnell's lifetime warranty extends only to residential applications, is non-transferable (available only to the original purchaser) and proof of purchase is required.
Color-Through Technology
At Grinnell we only invest in the finest equipment and continually reinvest in our manufacturing to ensure the greatest consistency. Our use of the original color-through process means that instead of only having color on the surface of our stones, our colors are consistent from top to bottom. And that provides our clients with the best and longest-lasting color available.