Pavers
Welcome to the Exquisite World of Capitol Hardscapes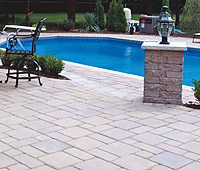 See your home in a beautiful new way with Capitol Pavers & Wall Stones and create the unique outdoor living space you deserve. With Capitol, you get value...the finest quality hardscape products offered in more styles and colors than found anywhere else, all backed by a lifetime warranty.
So invest in your lifestyle and discover the beauty and affordability of Capitol pavers and wall stones.
Capitol's DiamondCrete™ with Smooth Surface Technology is a unique proprietary process that improves the appearance and durability of our Traditional Pavers.
With DiamondCrete™ You Get An Unbeatable Combination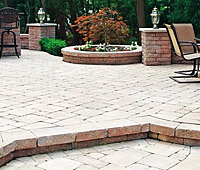 A perfectly smooth silk-like surface with vibrant color saturation.
The lush color that appears on top of paver goes all the way through to the bottom.
Mixed course aggregates needed to give the pavers their strength and durability lie beneath the DiamondCrete surface.
Unique Colors
At Capitol we're known for our distinctive range of solid and blended colors making it easier for you to find the perfect color that will set apart your hardscape installation from all others.
As Strong As They Are Beautiful
Capitol's DiamondCrete is backed by limited lifetime warranty. To ensure that you receive the optimum hardscape product, our pavers have met the rigorous standards of the:
American Society of Testing Materials (ASTM 936)
Interlocking Concrete Pavement Institute (ICPI)
When a paver absorbs water and freezes it can expand, which over time may break down the concrete cells and the overall integrity of the paver. All Capitol pavers are manufactured to withstand water absorption testing in the 2 to 3% range where ASTM industry standard requires maximum water absorption of 5% or less.